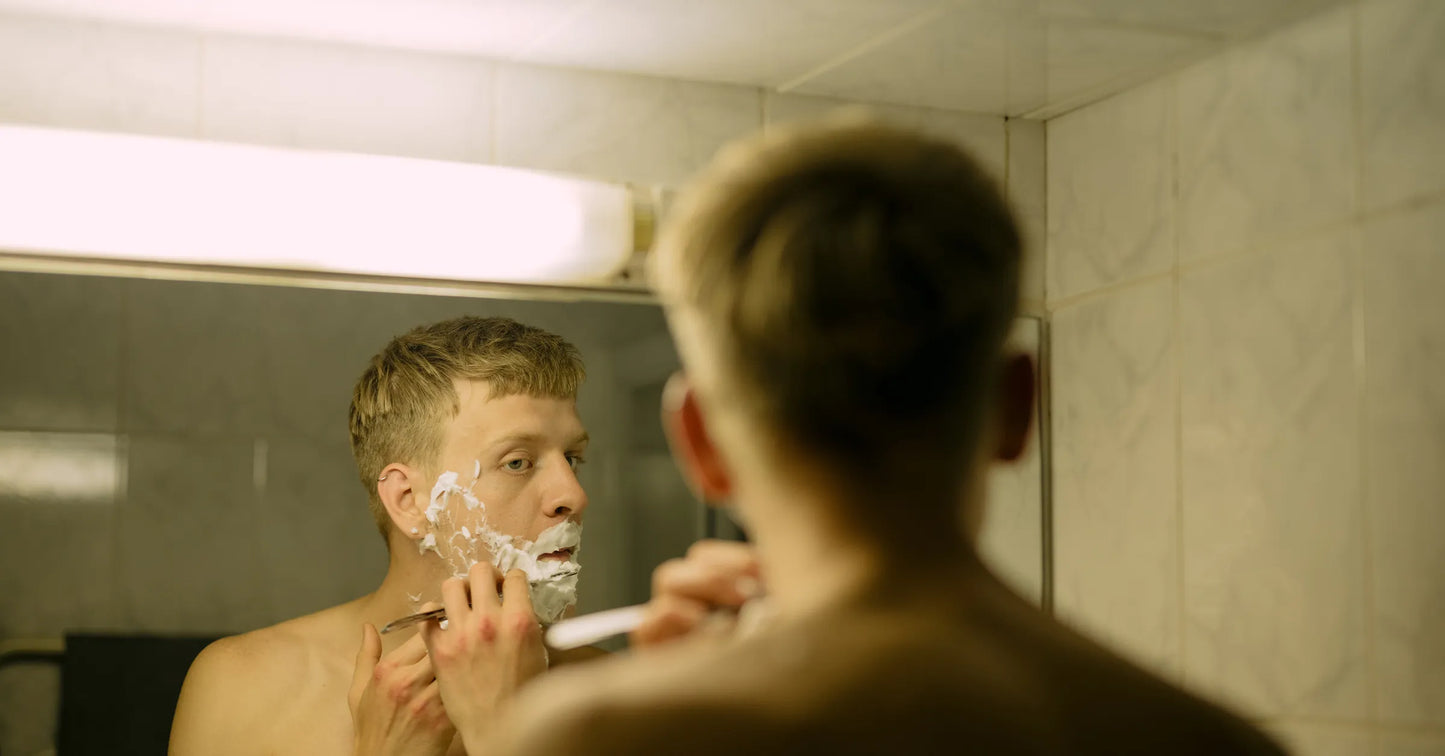 Table of Contents
Should you shave before or after showering? This sounds like an easy question but there's actually more to it than you think.
Most people don't think twice about deciding when they shave while others have set a routine whether it's decided by experience or whim but choosing one or the other actually makes a difference on your skin.
Before we dive into the whys and whats, let's talk about what the optimal conditions for shaving are. According to the American Academy of Dermatology, these conditions will help prevent unwanted skin problems resulting from shaving:
Wet or moist skin and hair. This is to rid your skin of excess oil and dead skin cells which could clog your razor. It also hydrates the skin and softens the hair for a smoother shaving experience.
Use a foaming shaving cream. You can use your finger or a shave brush to apply the cream and leave it on for two to three minutes. That'll make the hair easier to shave off.
Shave in the same direction as your hair. Razor bumps and skin irritation are usually results of the hair resisting the razor and shaving in the direction of hair growth poses the least resistance to the razor.
Rinse the razor after every few swipes. The razor is the key to shaving and hair naturally gets stuck in the blades as you shave your hair. But what you don't see is the dead skin cells and bacteria that came with it, now stuck in the blades. That is why rinsing your razor after swipes is extremely important.
You guys understand how annoying getting skin irritation or beard acne is. It has lingering pain and it looks bad which is why knowing when to shave is important.  Let's look into the pros and cons of each method.
Shaving Before a Shower
When you shave before a shower, you're signing yourself up for a faster shave and a better trim—if that's what you're going for—but you're also leaving your skin prone to irritation.
Benefits of Shaving Before Shower
Quick Shave
In most cases, shaving before a shower starts with a wet washcloth on your skin to moisten it. After which, you apply your shaving cream and start shaving. That's as fast as you can go when shaving, and it's best when you're in a hurry.
If you're shaving your face before showering, it's important to use a good shaving cream as it makes a difference on your skin after you shave. Especially since you're shaving before showering, the Mantisfy Facial Cleanser and Shaving Mousse is really good for this purpose.
It contains Edelweiss which balances facial oils and gets rid of bacteria which also helps in preventing acne. Hitting three birds with one stone, the top-tier ingredients provide you the best shaving experience.
Easier Trim
To those planning to do a quick trim, shaving before showering is better. When you shower, your hair softens and your skin becomes less intact. Since you're trimming, it'll be easier to do so when your skin is intact, so then the hair will stay steady and you can trim it off quickly.
No Loose Hair
You won't have to worry about the excess hair staying on you after shaving since you'll be taking a shower anyway. This saves you some time and water and even ensures a thorough rinse off of any hair or dead skin you shaved off.
You can also clean up the sink before showering and you won't have to worry about getting dirty or sweating away while collecting the hair.
Clean Finish
Finishing off the shave with a shower gives you a clean finish and if you missed a few strands, you can simply follow it up with the razor while showering.
Even more so, in case you accidentally nick yourself from the razor, you can disinfect it in the shower and wash off any blood. Not only is it efficient to do so in the shower but also allows you to wash it more thoroughly to prevent infection.
Cons of Shaving Before Shower
Skin Irritation and Razor Burn
Since you're shaving before a shower, your skin will be coarse and dry which is only natural. However, because it's still dry, it becomes prone to skin irritation. This is especially painful for those who struggle with razor bumps and ingrown hairs as it could cause razor burn.
According to a 2017 medical news article, razor burn can be a source of great discomfort and pain, especially in the neck area. This is a common side-effect of shaving with a razor and dry shaving because the dry and coarse hair follicles have a higher resistance to the blade. Even when trimming, there's still a risk of razor burn so you should still be careful whenever you trim.
Razor Clog
If you add the excess oil and dead skin cells that could clog up your razor, you might find it becomes increasingly difficult not only to shave but also to rinse off the razor. This increases the chances of shaving causing problems on your skin.
Shaving After a Shower
Shaving after a shower softens your hair and makes it easier for the razor to do its job. This also lets you properly apply the necessary products to keep your skin fresh and glowing.
Benefits of Shaving After Shower
Deep Exfoliation
Starting with exfoliation during the shower, not only does it clear away dead skin cells but also allows your moisturizer to hydrate your skin better. This promotes better skin hygiene and reduces the risk of bacteria irritating your skin.
Beard Care Routine
Shaving your face after showering is also better, especially with the looming risk of razor burn. Razor burns on your neck and jaw can get painful since they're sensitive areas.
Showering opens up your pores and softens your hair which means it'll also soak up your pre-shave routine better: pre-shave oil, shave cream, and moisturizer—these are necessary steps to ensure your shave is painless and decrease the chances of razor burn.
If you're looking for solid skincare products for your shaving needs, I personally use the Mantisfy Facial Aftershave and Moisturizing Toner to keep my skin hydrated and fresh. The key ingredient in this is Salicornia which is a great moisturizer and provides all-day hydration.
Smoother Shave
With the proper pre-shave prep in order, your clean razor can glide smoothly across your skin with minimal resistance, like sliding scissors through paper. Not only will this minimize the chances of razor burn but also gives you a close shave.
Cons of Shaving After Shower
Time-consuming
When you're in a time crunch, shaving after a shower takes a lot of prep including the beard care routine and exfoliation process, both of which are the main benefits of showering before shaving. 
It also leaves you with excess hair on your skin and clothes which may be difficult to spot or brush off thoroughly. Plus, you also have to clean up the sink after doing your skin care routine. Overall, a lot of steps are taken compared to the other option.
Conclusion
That's just the general gist of shaving. The truth is, it's still dependent on what your skin type is or what situation you're in.
If you have sensitive skin and experience skin irritation often, you should definitely opt for the safer option, shaving after a shower. This guarantees the most optimal conditions for you to get a clean shave. 
If your skin isn't easily irritated, you can opt to shave before your shower to save time and energy. But if you have time to spare, it's always better to shave after your shower. On top of getting a clean shave, you can add to your beard care routine when you're shaving your beard to leave your skin smooth and hydrated after your shave.
Deciding when to shave is one thing, choosing to maintain a skin care routine is another. Pre-shave is just as important as post-shave in keeping your skin smooth and clean which also promotes healthy hair growth and minimizes razor bumps or unwanted skin problems.
How about you? Do you shave before or after showering? Leave a comment down below!
References:
https://www.aad.org/news/tips-for-men-how-to-shave
https://www.medicalnewstoday.com/articles/318235#What-is-razor-burn
https://beardoholic.com/shave-before-or-after-shower/